Marriott International University Talks; The Marriott Jr Business Council meets with the future leaders to share their experiences with them on 25 April 2019 Thursday between 10:40-13:00 in EE-01 Main Campus, Bilkent University. Hosted by the Bilkent University Department of Tourism and Hotel Management, the event brings students and faculty members together from Universities in Ankara; Atılım, Başkent, Hacettepe and Hacı Bayram Veli. The event is within the scope of GE250/251. 
Special Event on Tourism Week; Talk by Mustafa Siyahhan on Smart Tourism on 18 April 2019 at 14:00 in R Building RC 202. 
Mustafa Siyahhan, instructor at Bilkent University Department of Tourism and Hotel Management, former councilor for culture and tourism in Copenhagen, Denmark; councilor for tourism in Washington DC, USA; and general director of marketing and tourism promotion and EU permanent contact point for the Ministry of Culture and Tourism in Turkey. 
Tourism Club Presents; The Hunger Games –  Cooking Contest on 16 April 2019 Tuesday between 13:00-15:00, R Building. The event is within the scope of GE250/251. 
Career Opportunity: Club Med Recruits. Ready to live a new professional experience? Join us on 18 April 2019, R Building, RC 202 at 11:40. 
Career Opportunity: Dok-tur Mice is looking for candidates to work with them in their MICE department. For more information, please contact Ms. Özgen Çakıoğlu, School's Industrial Training Office.
Nikki Beach Resort & Spa Bodrum Talent Casting Event on 14 March, 2019 Save the date, if you are looking for summer or semester internships.
Bilkent University Career Center Special Event on 14 February, 2019: Presentation by Aydan Öktem, Director of the Career Center on how to prepare your CV for success.  
Marriott International Luxury Brands Career Day on 28 February 2018 Thursday between 13:30-16:30 at the Ritz-Carlton Istanbul Hotel.  
Hilton Trainee Selection Day on 18 February 2018 Monday between 10:00-15:00 at the Hilton Istanbul Bomonti Hotel and Convention Center.  
THM 418 Senior Project Poster Presentations on 28 December 2018 Friday at 10:00 in the R Building.
Hotel Management Minor Program: For the prerequisite courses, special conditions, and the curriculum of the program, please click here. Deadline for registration 11 January 2019.
Internship and Job Opportunities: Presentation by Mr. Ersev Demiröz, our graduate, Hotel Manager of Mandarin Oriental Bodrum on 27 December 2018 at 11:40 in RC 212. Like to have an interview? For more information, visit Mandarin Oriental Bodrum.
The Longest Night in the Museum: Organized by the Tourism Club and the Department of Tourism and Hotel Management at the Ankara Rahmi Koç Museum on 21 December 2018. The museum will be open for Bilkent University in the night for this special event. The participants will have chance to see the original View of Ankara painting from the Rijksmuseum, the Netherlands and play treasure hunt in the museum in the longest night of the year. A bus will leave at 17:40 from the bus stop in front of the R Building. Please call the department at 5025 for reservation. 
Young Designers Create a Next-Generation Look for R Building Interior: An award ceremony will be held to announce the winners of the competition that tasked IAED students with designing a new look for the interior of R Building, including Le Piment Rouge Restaurant on 20 December 2018 at Mithat Çoruh Room in the Main Campus.
7. Bilkent Tourism Forum: This year's forum will take place on December 12 and will also celebrate the department's 30th anniversary. The theme of the 2018 forum is "Tourism 4.0," with a focus on technological developments and their impact on the tourism industry. 
Internship Opportunities in the USA: If you are interested to have an internship for 6 or 12 months at the Broadmoor before or after your graduation, please send an email to our Department Industrial Training Office via cakioglu@bilkent.edu.tr for us to schedule an interview for you on the 28th of November. The deadline is 12 November 2018. 
Mentor and Mentee Matchmaking: Organized by the Department of Tourism and Hotel Management. In order to join the program as a mentor (graduates) or mentee (current students), please email thm@bilkent.edu.tr
THM Get Together: On 28 April 2018 at the Lotus Bar Ankara Hiltonsa Hotel.
We Recognize Excellence: 25th Bilkent THM Awards Ceremony will be held on 26 April 2018 Thursday at 2pm at Bilkent Hotel and Convention Center. 
Job Opportunities: Mandarin Oriental Hotel has open positions. If you are interested, please email cunal@mohg.com or kegricam@mohg.com
Career Fair: Marriott International Voyage Program Presentation JW Marriott Ankara 13 April 2018, 14:00-16:00. Learn more.
Career Opportunity: Wyndham Hotel Group is looking for candidates for their International Collections Specialist EMEA role. Learn more.  
THM Get Together: Established in 1988, the Department of Tourism and Hotel Management is celebrating its 30th anniversary this year, with events planned to take place throughout 2018. The first of these will be held on March 30, with a get-together for students, graduates, and current and retired instructors of the department at the Clubhouse Jazz Bar of the Sheraton Ankara Hotel and Convention Center.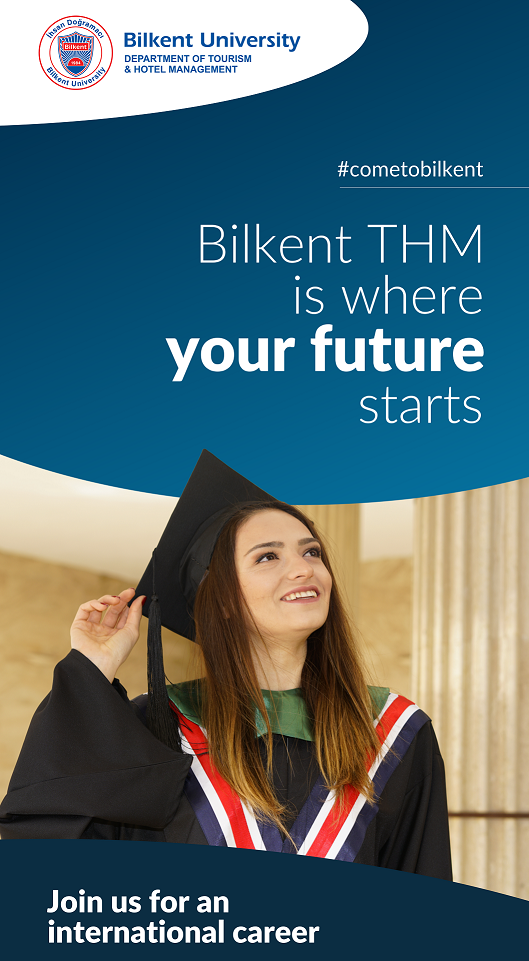 Bilkent THM at TRAVELEXPO Ankara 2018, 22-25 March 2018, Congresium Ankara Convention and Exhibition Center. Learn more. 
Talent Casting Day: Talent Casting Event by Nikki Beach Resort & Spa Bodrum 12 March 2018. 
Casting Talent Event: The Bodrum Edition Hotel is hosting a hiring event in Ankara on 8 March 2018. Learn more. 
Career Fair: 8 March 2018 Thursday, Main Campus, Sports Hall. Please join us for internship and recruitment opportunities at Hillside Beach Hotels, Mandarin Oriental Bodrum, Edition Hotels Bodrum, Bilkent Hotel and Convention Center and Turkish Airlines. In addition, on the same day, D Maris Bay Datça Peninsula at 11:40 and Edition Hotels Bodrum at 13:40 will be having special sessions with our students at our department in RC202 Banquet Room. As part of our THM 420 Seminars on Tourism Industry course, Ms. Zeynep Naz Çelik HR Manager will be our guest speaker and talk about "HR Needs of the Tourism Industry". 
Important Notice for Internship Applications: Internship Applications for THM 300 2018 Summer Internship and THM 310 2018-2019 Fall Semester Internship must be made between 26 February – 7 March 2018 to Industrial Training Officer Ms. Özgen Çakıoğlu in room RA 213 by PERSON; fill in the application form and hand it to Ms. Özgen Çakıoğlu. Please send your CVs to her via email at cakioglu@bilkent.edu.tr within the stated deadline. Learn more.
For Summer 2018 Internship Quotas and Estanblishments, please click here.   
Announcement of the Taipei Economic and Cultural Mission in Ankara to study in Taiwan with a scholarship. Application deadline 31 March 2018. Learn more.